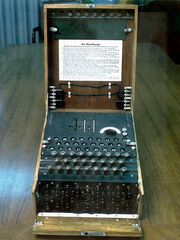 Enigma (Wikipedia) was a World War II-era rotor machine used by Nazi Germany, amongst others, and was famously broken by Allied cryptographers.
Where can I see one?
Edit
Australia
Edit
[6] Both 3 and 4 rotor Enigma machines.
Luxembourg
Edit
United Kingdom
Edit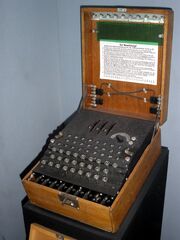 United States
Edit
Switzerland
Edit
External links
Edit
Ad blocker interference detected!
Wikia is a free-to-use site that makes money from advertising. We have a modified experience for viewers using ad blockers

Wikia is not accessible if you've made further modifications. Remove the custom ad blocker rule(s) and the page will load as expected.