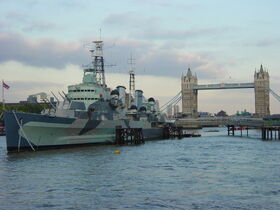 The HMS Belfast (Wikipedia) is a former Royal Navy cruiser active during World War II and the Korean War, and now serves as a museum ship on the Thames, London.
A KL-7 rotor machine
A 4-wheel Naval Enigma
Display on how ULTRA intelligence contributed to the sinking of the German battle cruiser Scharnhorst (as did HMS Belfast).
External links
Edit
Ad blocker interference detected!
Wikia is a free-to-use site that makes money from advertising. We have a modified experience for viewers using ad blockers

Wikia is not accessible if you've made further modifications. Remove the custom ad blocker rule(s) and the page will load as expected.