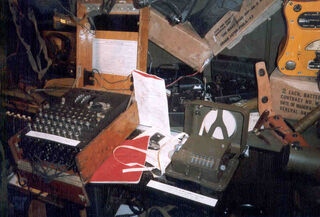 The National Museum of Military History, Diekirch, Luxembourg, exhibits a 1941 3-rotor Heer Enigma and a US M-209 converter. They also have a large collection of other communications equipment. Although it is a small museum, it is loaded with a huge amount of material in the center of Diekirch.
The Enigma and M-209 were acquired as a long-term loan from the National Cryptologic Museum on 28 August 2004 and, since 30 September 2004, have been integrated into the museum's communications equipment exhibit.
External links
Edit
Ad blocker interference detected!
Wikia is a free-to-use site that makes money from advertising. We have a modified experience for viewers using ad blockers

Wikia is not accessible if you've made further modifications. Remove the custom ad blocker rule(s) and the page will load as expected.